New Stroker Kit - Tomei 2JZ36!
Tomei Japan have released a new stroker kit for the Toyota 2JZGTE engine, which pushes capacity out to 3.6ltrs! As the name implies, it's a 3.6ltr beast running 87x100mm bore / stroke (resulting in 3565cc specifically). Tomei's build with 260 IN and 270 EX Procams realised near 700ps!

It comes with the usual rods, pistons ans SNCM439 crankshaft, as well as requires support parts such as rings and bolts. The crankshaft itself weighs 29.6kg total. It's an interesting product development as the 2JZGTE engine is what most would consider old now plus many of the engines have been well and truly flogged already!

The Tomei images are not out as yet (better ones will come) so we can only show their 2JZ36 assembly image to the right.

As for the price - wait for it! $13,100 delivered or if you want to work your own numbers, they're Y1,000,000 retail, excl shipping and GST. Ouch! That's "one million Yen"! The alternatives from Brian Crower are not that much cheaper - at least tipping the scales over $10,000! Given that there's been plenty of builds achieving north of 600hp without the need to stroke the engine, we think that's money better spent on an ETS Turbo kit, fueling and ECU work!


US$ Slipping - Advanced Clutch Discount Upped!!

For July, Advanced Clutch in the USA has increased 'our' dealer rate which in turn helps to overcome the increase in prices due to the exchange rates dropping downwards! While the US$ is now 12% more expensive than it was last month, the small additional discount from Advanced Clutch helps to overcome this margin somewhat!

That means the current prices are far closer to the older pricing for full clutch kits and twin plate clutch kits.

They do have a good range of Japanese spec clutch kits, and twin plates for the common engine (i.e. Honda K-Series, Mitsubishi 4G63) but the single-plate kits are where it's at! They support up to 700NM for Turbo 4-Bangers (and more for larger engine capacities!) with clutch covers from street performance to extreme.

In other words, if you're looking for an OEM feel, upgraded single plate kit for street, or perhaps a twin plate to take care of race or sprint work and don't want to sell a kidney to slot in an Ogura or OS Giken kit, then take a peek at ACT by clicking the image below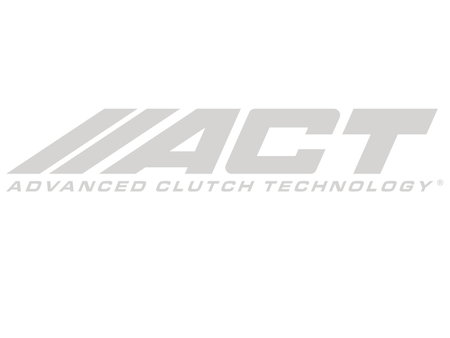 Exedy Spare Parts - Clutch Refreshment!
If you have a Clutch from any brand, you'll know that they have a certain rate of attrition. That is, over time the pressure plates and discs start to wear and performance drops. Fortunately with most brands - Exedy Included - you can get all the replacement pieces you need to suit your clutch (so long as it's still supported by Exedy - clutches over 10 years of age generally aren't!) so that you can rebuild it for a fraction of the cost of replacing it.

This is also handy for those looking to buy used clutches. Often, those who do not know otherwise sell their kit believing it's on its last-legs. With a simple disc replacement or cover replacement, most clutches can be cheaply refreshed. When you consider a new Twin Plate is often over $2000 and a replacement cover or disc is under a quarter of that, it really seems like an easy choice!

Send us your clutch details to see if there's a spare part available. Exedy have bolts, bearings and covers so no request is too silly!


RS Watanabe Wheels!
If you're in the market for custom-made old-school type wheels and have plenty of patience on hand then look towards RS Watanabe.

However, bear in mind that the minimum lead-time on any set of wheels from RS Watanabe is 6 months even before they ship! If you can withstand that wait (as is often associated with other custom wheel sets regardless!) then we certainly recommend them!

Their small range of wheels covers lightweight old-school designs like their 8-Spoke and newer RS8 wheels. The 8-Spoke R-Type wheel is often the wheel you see on the older 70-90's chassis's in Japan because of their simple lines and dished face. This is because the styling is typical of this time period and therefore the wheel type is familiar on these older chassis's. Plus, many of the cars from this period have found the race track in historical racing series and such a wheel not only looks fitting, but gives extra tread for racing!

If you're keen on a set, drop us a line. We'll manage the wait for you and keep the heat on for delivery!


New Exhaust - Tomei Expreme Titanium for Z34 370Z!
Tomei have released yet another new exhaust application in their Expreme Titanium range and this time it's for the 370Z with the VQ37VHR engine!

With the optional Y-Pipe and center pipes (both Titanium), you can shed around 70lbs from the chassis (near 32kg!) and gain 30ps (28hp)! Plus, it sets a high ceiling for any future modification due to its large bore - 80mm! You'd need to be hitting north of 600hp to require a larger bore than that!

Also, since Tomei is our best selling exhaust (because it can actually ship via air, it's lightweight and super-cheap for Titanium) it is still on special. All cat-back exhausts below are $1699 delivered incl GST! That's a tad more than steel, but half the price of competitors titanium options (we're not kidding - look up HKS, Trust or Fujitsubo titanium systems!)

If you are lucky enough to possess one of the following chassis's, snap one up or put it on interest-free laybuy:

Nissan R32 GTR
Nissan R33 GTR
Nissan R34 GTR
Nissan RPS13 Silvia
Nissan S14 Silvia
Nissan S15 Silvia
Nissan 350Z
Nissan 370Z

Nissan Z33 350Z
Mitsubishi Evo X
Mitsubishi Evo 7-9
Toyota 86
Scion FRS
Subaru BRZ
Hyundai Genesis Coupe
Subaru Impreza GDB A-G
Subaru Impreza GR / GV

So, why do we recommend them?


★ Price - Find a top quality, cheaper option in full titanium and we'll eat our words. Some stainless systems are not this well-priced!

★ Quality - As good as any on the market. Anywhere. Including the likes of Akrapovic but without the price tag!

★ Shipping - They can ship via air! Exhausts generally cannot, due to long mid-pipes. These can!

★ Performance - These aren't small-bore, cheap exhausts to save money. There's no compromise nor trade off to bring you such a well-priced system. They're 70-80mm in most cases, which is plenty for massive builds!


★ Weight - Gain power, drop weight. Win Win! Stainless exhausts are at or near OEM weights. Titanium sheds 10's of KG's. And if you follow any race event anywhere, you know weight reduction is as important and beneficial as power!

★ Brand - It's Tomei. What's not to love?

★ Longevity - for 14 years we've sold Tomei, with 0 issues. None. That speaks for itself!

★ Material - a natural and strongly bonded layer of oxide film protects titanium from rusting. No 2 or 3 year issues with rust like some cheap stainless options!

★ Popularity - there's a reason we see one system through here every other week. The benefits sell themselves - we don't really need to go on!


Are you now convinced to save a little more over steel systems and go Titanium? We hope so! Drop us a line via return email to sort an order!


Free Fuel Pump!
Recently we've partnered with Fuel Injector Clinic to increase our fuel injector line up and have added a small deal on the side! As is always the case with a fuel system upgrade, all pieces need to support one another. A set of 1500cc injectors will be useless without a regulator and adequate pump to supply the injectors full stop! In knowing this, we've tied together the following deal:

Snap up any 1300cc injector set from FIC via ourselves (or greater capacity) and we'll add a free Walbro 255lp/h fuel pump with the order.

You need not do anything special - we'll add it post-checkout (or after order is complete) with your order. If an injector set is not listed, be sure to check!

Drive safely out there - no matter how good you are, the driver of the car coming at you may be far worse!