Phi Fifty / Lower Arm Bar Deal!

For team Honda we have a rigidity special from Skunk2 which includes their lightweight lower control arms and rigid Phi Fifty rear lower arm bar! Both pieces work together to increase the rear rigidity of the car - an area prone to lateral forces under cornering!

With either Alpha lower control arms, standard or Ultra version arms, you not only gain rigidity and replace soft OEM bushes, but you also shed weight, contributing to better handling overall and lessening of the unsprung weight component of the chassis.

Pricing for arms + bar start from $540 delivered! Long gone are the days when such arms on their own were north of $500!!


New Nismo Exhaust Options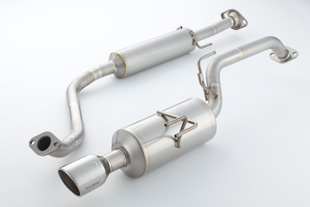 Nismo have some new titanium exhausts out! But, only for the Nissan March and Note! Sorry Skyline and Silvia owners! The K13 March option is a massive 4.1kg while the Note E12 is 4.9kg.

However, unlike the Tomei and J's Racing exhaust options in titanium, the Nismo titanium system is of a higher standard with more work going in to the muffler style and shape in order to reduce resonance (a negative often associated with the thin-walled Titanium options!) and increase overall exhaust rigidity when high volumes of gasses are passed through it.

There's lots of other new goodies out and Nismo keeps this page below updated. Keep it bookmarked and check in every now and then if your a Nissan fan!


Nismo New Parts
New 5Zigen Wheels
5Zigen have spent a year or so yanking wheels from their line up, but in a more positive step they've added a new option!

It's called the Z1 and it's available in 17 and 18in only so far. Therefore, it's squarely targeted at the street / track user who wants the classic-spoked Japanese wheel design and wall strength, plus (in this case) a range of dish faces from mild to wild.

Unlike Work Wheels or Rays who release a new wheel then put a 3-5 month back order on them instantly, the Z1 is available right now. Pricing starts at $1399 + Shipping from Japan! Click on the image for more information!


Cobb Website Updated
Cobb are well known for their Subaru and Accessport options that enable tuning of newer Japanese performance car chassis's. Well, they've finally refreshed their web site which makes it far easier to find all the goodies you want!

Aside from their famous Accessport, Cobb offer intake, exhaust, cooling, rigidity and accessory parts to hot-up your chassis. Specifically, their intake piping and kits are in strong demand all the time, as are their universal items and tuning components (naturally!).

So, if you have a minute or two to spare, take a peek at Cobb Tuning and ask us for pricing on bits to suit your build!